Washington County, Oregon: The Washington County Cooperative Library Services (WCCLS) is pleased to announce that Lee Evans, WCCLS Library Materials Distribution Supervisor, is the recipient of the 2019 Library Employee of the Year Award from the Oregon Library Association.
WCCLS nominated Lee because of his inspirational leadership of the Courier team through a tremendous amount of change in the past year. With the transition to central sorting and automated materials handling (AMH) at our new warehouse (watch a quick video of the machine in action), Lee's team saw pretty much every possible change possible to their work. WCCLS transitioned from member libraries sorting library materials by hand at their respective locations, to all library materials coming to our central sort facility and getting fed into the AMH before being sent out to their next destination. This was a huge efficiency for member libraries, and a significant body of work for Courier to take on. Lee has handled this monumental transition for his team with positivity, humor, and a relentless focus on continuous improvement and excellent customer service.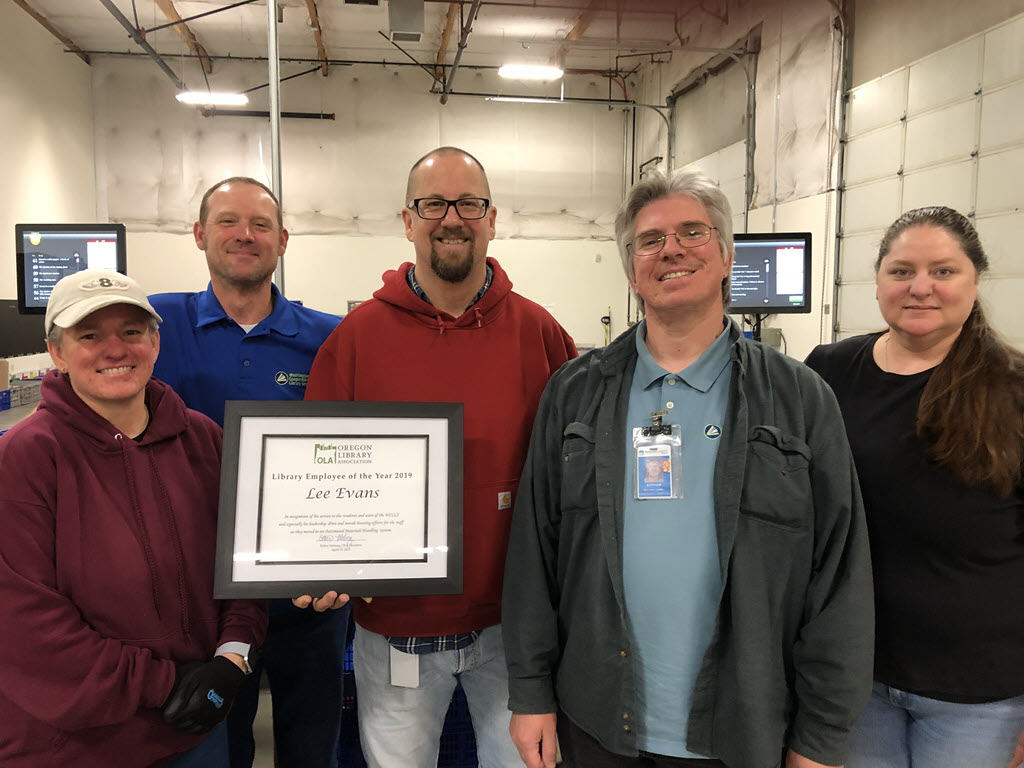 With the AMH project, Lee had to develop entirely new workflows for every aspect of his team's work. He also had to figure out ergonomic best practices on the fly. Lee trained his staff, kept them injury-free, and maintained high morale, while they were faced with processing a daunting amount of totes each day for months. Lee's eye for logistics and efficiencies proved to be invaluable in making the shift to central sorting. He and his team continue to make incremental improvements to their workflows, saving time and reducing errors. At the beginning, Courier staff were scrambling to sort an average of 9,000 items per day. With their spirit of continual improvement, Courier staff were able to accurately sort nearly 15,000 items on a recent day.
Here's what some of Lee's staff had to share about working with him this past year: "Through this incredibly stressful time, he can still be heard laughing often and makes us laugh as well. He always tries to stay upbeat, look for positive outcomes or compromises in difficult circumstances, and focus on the good. Lee has been amazing to work for this year. He has tackled every challenge that came his way and has encouraged everyone around him to do the same."
Shannon Caster, Head of Circulation at the Cedar Mill Community Library, shared this about Lee: "While the AMH project would have been a full time job for anyone, Lee not only shepherded [the project] from beginning to successful implementation…. He continues to supervise staff working 7 days a week handling millions of items a year. Lee often fills in for Courier routes due to staff illness and can be found on the floor working alongside staff members daily. Lee is always willing to work with library staff on troubleshooting unique situations, such as the time a patron left an envelope with a large amount of cash in a book (patron and money reunited with Lee's extra work)."
It was fun to surprise Lee with the award at the joint Oregon Library Association/Washington Library Association Conference in Vancouver, WA on April 29. His dedicated team of Couriers couldn't be at the ceremony to celebrate, but Lee shares the credit with his staff, saying that they "are a dream team when it comes to collaboration, flexibility, and team work. I am very proud of them and of the work we have accomplished this past year."
WCCLS Courier and Automated Materials Handling By the Numbers
Over 52,000 miles driven by WCCLS Courier staff between 20 locations across the County
Average of 10,000 items sorted centrally each day
Over 3 million items sorted centrally in the past 12 months
An estimated 25 hours of member library staff time saved each day across the Cooperative
The Washington County Cooperative Library Services (WCCLS) includes: Banks Public Library, Beaverton City Library, Beaverton City Library @ Murray Scholls, Cedar Mill Community Library, Cedar Mill Community Library @ Bethany, Cornelius Public Library, Forest Grove City Library, Garden Home Community Library, Hillsboro Public Libraries (Main and Shute Park), North Plains Public Library, Sherwood Public Library, Tigard Public Library, Tualatin Public Library, and West Slope Community Library. Two specialty libraries are also a part of the Cooperatives library card service — the Oregon College of Art & Craft and the Tuality Health Education Resource Center.