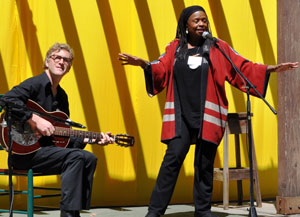 Diane's storytelling foundation began by listening to neighbors and family swap stories, lies and tales on her grandparents' porch, and later as a young girl playing music in church as well as mastering American Sign Language.
Her storytelling journey began in 1980 after she and her husband adopted their second child and soon realized that she needed to release him from the bonds of television. Her skill at telling stories developed a special relationship with her son that soon created a bond with people around the globe.
For over thirty years Diane has captivated audiences while using music, songs, sign language, humor, and audience participation with her stories. Diane has wowed audiences in Australia, New Zealand, Africa, Europe, Asia, South America, and in virtually all 50 states of the U.S. She has received numerous honors, including The National Association of Black Storytellers' Zora Neale Hurston Award, The National Storytelling Network's Oracle Circle of Excellence Award, as well as a Grammy Nomination. You can follow Diane at www.dianeferlatte.com
Erik Pearson has been playing the guitar since he was 12 years old. At Oberlin College he started studying South Indian music and began learning the banjo and old-time Appalachian string band music. He has been accompanying Diane for over 20 years while serving on the teaching faculty of the San Francisco Community Music Center.