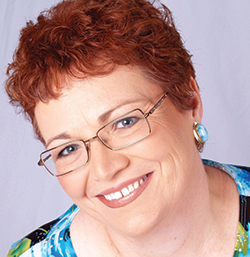 Award-winning storyteller and educator Geraldine Buckley is internationally known for her trademark wit, warmth and humor. She is also known for personal stories that make people laugh and think. She has been involved in storytelling, speaking, conducting workshops, and coaching for over thirty years in the US, Canada, England, Holland, South Africa, Spain and New Zealand.
Geraldine teaches workshops, and performs in conferences, colleges, churches, schools, corporations, and house-concerts. She has appeared as a featured teller in festivals throughout the US, including twice at the National Storytelling Festival, in Jonesborough, TN., and the Timpanogos Festival in Orem, Utah.
Geraldine was the Protestant Chaplain at the largest men's prison in Maryland until January 2010. In addition she conducted workshops in Rimutaka, the largest men's prison in New Zealand. The inmates performed a Haka, a ceremonial dance as a thank you. She was thrilled.
Geraldine is frequently heard on Sirius radio. She has recorded three CDs, each which is a recipient of a gold award from Storytelling World. She has as a Master of Arts degree in Communication from Regent University. Geraldine lives in Frederick, Maryland, 45 minutes from Washington, D.C. Find out more on her website www.geraldinebuckley.com
Programs and descriptions
(see the full schedule for times and dates)
Destination? Slammer! True Tales of Life and Laughter
(Adult program)
A British-born convent school girl becomes a chaplain at the largest men's prison in Maryland resulting in thoughtful, hilarious, true stories.
Devils on Horseback and other Odd Journeys
(Adult program)
Quirky, hilarious, true, stories full of wisdom and humor.
More Than Meets The Eye - Stories of Faith and Wonder
(Adult program)
Thoughtful, funny tales of odd happenings.
Inadvertent Adventures - Tales to make you laugh and think
(Adult program)
True, hilarious stories about handling life's curved balls
Finale Showcase Concert: Upturned
(Adult program & ages 12+)
Handling life's unexpected adventures with humor and heart.