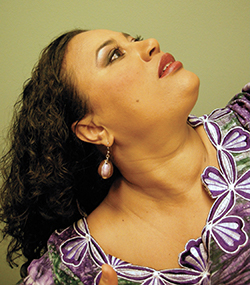 A native of Ghana, West Africa, Habiba offers an interactive, multi-cultural performance with authentic West African costume, spiced with singing and movements. Her stories will encourage the audience to explore their own world as well as those far, far away.
Addo performs stories from the continent of Africa and its diaspora to inspire and provoke thought. She lives her art through continuous study and practice – combining her knowledge and deep appreciation for these cultures with her natural talent for storytelling and prodigious vocal abilities.
Anyone who has witnessed her performances will testify that she blends her sense of humor with extremely genuine respect and love for these revered traditions. Addo teaches and performs with infectious joy and adept technical accuracy. She has performed and taught the local community in dance, storytelling and theater through companies such as Miracle Theater, Northwest Afrikan Ballet and Portland State University.
Programs and descriptions
(see the full schedule for times and dates)
Journeying - Are We There Yet?
(Adult program & ages 6+)
We are always there, exactly on the spot all along. Life's journeys in its varying lengths and nature are brimming with all that we need for the moment, the time. The retelling of these African continent tales is just where we need to be. Here we go, here we are.
The Myths In The Elements
(Adult program)
Stories are about the people. The stories today are commanded by the elements from sky to earth.
The Beautiful Lessons in Our Fantastic Messes
(Adult program & ages 6+)
We are so messy and so beautiful! It true! Folktales and personal tales are a great testament to that. We are just right.
Finale Showcase Concert: In Memorial
(Adult program & ages 12+)
For my dear cousin Fritz Teye Maatey. Never Forgotten.
Learn more about Habiba Addo at her website www.habibasvillage.com.