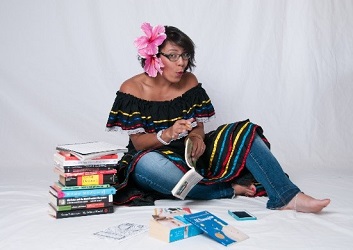 Cardenas is a bridge builder and believes in the power of stories to unite us. She joyfully made her national debut at the 2016 National Storytelling Festival's Exchange Place stage. One of the first Latina's to receive The Race Bridges Storytelling Fellowship, Jasmin uses storytelling and theater to pursue justice and humanity. She launched the bilingual Cuentos Aqui Storytelling literacy program for the Chicago Public Libraries. Her stories are available on podcast.
A professional actress, director, writer and Chicago native, Jasmin has performed at Steppenwolf, Goodman Theater and Adventure Stage Chicago, among others. Her one-woman show ¿ Niña Buena? toured throughout Chicago and to an international festival in Mexico. Currently Jasmin is focused on working class stories with her collective The Workers' Theater, made up of low wage workers in America. A proud SAG-AFTRA member - her TV credits include NBC's Chicago Fire, Showtime's The CHI & ABC's Betrayal. Learn more about Jasmin at www.jasmincardenas.com and listen to a story at www.soundcloud.com/2ndstory/episode-32-jasmin-cardenas-nina-buena
Programs and descriptions
(see the full schedule for times and dates)
Growing Up Between Worlds & Grappling with Justice
(Adult program - Bilingual English/Spanish)
A 1st Generation American tries to figure it out. Stories about living in the in-between, identity, and considering other perspectives. Pursuing social justice is not always easy, Personal stories of grappling with and fighting for social justice.
Niña Buena? Good Girl?
(Adult program)
How do you live up to your Latin family's old-fashioned expectations when you are made in America? Being a good little girl isn't so simple! Cultural struggles like deciding between open toed fiery red heels and comfortable Birkenstocks was the constant drama growing up. Jasmin's one woman show explores the joys and challenges of being Latina y Americana…the stereotypes…the pivotal moments of change…niña o mujer?…the expectations…the pain…and the beautiful confusion of it all.
Cuentos From The Americas
(Adult & Ages 6+ - Bilingual English/Spanish)
A bilingual journey of stories from North, Central, and South America, and the Caribbean Islands. A mix of ancient legends, myths, folktales, and a personal story of being bi-cultural. Using, song, music, and dance, listeners will be on their feet by the end learning how to Latin dance!!!
Finale Showcase Concert
(Adult & Ages 12+)
Teenagers making an impact in a world full of injustice.
Jasmin looks back at the roots of her involvement in social justice issues when she joined the cause to free a young man from prison and stories of working with inner city youth and being the biggest stumbling block in the room.