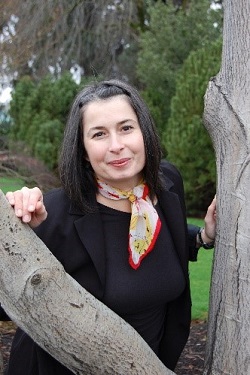 Take sheer physical power coupled with dynamic cadences, throw in a rich and varied life filled with powerful personal experiences and you start to get an idea of what an evening with Kelly is like. Hoffman has been telling stories to delighted audiences since grade school, only now when she does it she (usually) doesn't get in trouble! Kelly has been performing on stage for over 16 years for audiences of all ages.
Throughout her life, Kelly has been a member of the Merchant Marines, a Firefighter, an Officiant, a Marriage and Family Therapist, a Mom, a Wife, and a Storyteller. She has also been a winner, a loser, a fighter, a lover, a jerk, a kind woman, and everything in between. Kelly has two master's degrees, each focusing on the healing benefits of storytelling in society and in families. Her passion for story comes from the pure joy, connection and community created when the right story is told at the right time in the right way to the right people. Whether a story of courage or comedy, you'll find yourself relating, connecting and cheering for all the right reasons.
Programs and descriptions
(see the full schedule for times and dates)
Amazon Barbie Ships Out!
(Adult program)
True stories of a tomboy turned sailor and the adventures in between.
Turning Points
(Adult program)
Stories that turn for love, for better, for worse, for everything that keeps us all turning.
Parenting isn't permanent
(Adult program)
Raising the bar, two boys, and myself along the way.
The Comeback Kid!
(Adult program)
How I learned how to always have the perfect comeback and other nerve-wracking adventures.
Finale Showcase Concert
(Adult & Ages 12+)
Bring me to my knees, raise me up, give me hope!
How to rise and shine when you were taught to cringe and cower.