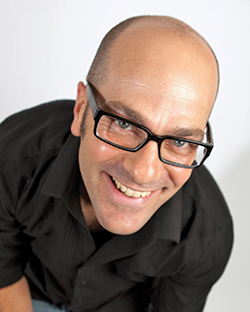 Rick Huddle is a storyteller, educator, and musician. He has toured all over the United States, Mexico, Thailand, and Colombia. He is a Moth Story Slam winner and has performed at the National Storytelling Festival- Exchange Place.
Drawing on influences of David Sedaris, Spalding Gray, and a touch of Carol Burnett, he performs personal monologues that juxtapose self-deprecating humor with self-honoring humility.
Rick believes that stories, songs, and laughter can help us better understand ourselves and each other- especially those with whom we don't agree. His most treasured work is teaching social-emotional skills to young students with special-needs.
He lives in Portland, Oregon with his talented and charming wife, Kristin, and their wonderful little twins, Gus and Marlo. Learn more about Rick at www.rickhuddle.com.
Programs and descriptions
(see the full schedule for times and dates)
Open Up & Say HA!
(Adult program & ages 6+)
Comedic stories & songs that explore what it means to be human.
The Stifling South
(Adult program)
In the land of muscle cars and chewing tobacco, the only thing more oppressive than the heat is the need to conform. Can the beauty of the land and music set a soul free?
Finale Showcase Concert: 100 years from now…
(Adult program & ages 12+)
Odd jobs & life missions.