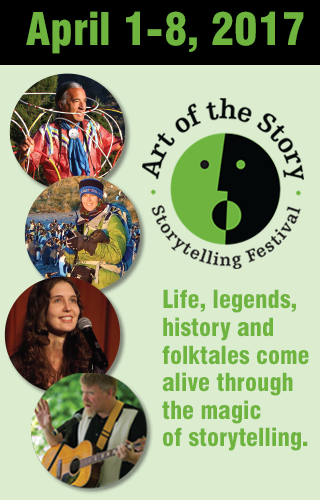 Washington County Cooperative Library Services is pleased to host the week-long Art of the Story Festival featuring thirteen unique storytelling performances and one workshop throughout Washington County. See the schedule of events or download the Festival newsletter (PDF).
This year the festival features four professional storytellers: Kevin Locke (Standing Rock Sioux Tribe, SD), Ingrid Nixon (Olympic Peninsula, WA), Norm Brecke (Portland, Oregon), Brianna Barrett (Portland, Oregon) and four Story Slam contestants: David Alexander, Brian Belefant, Maura Doherty and Janis Collins.
All festival performances are designed for the enjoyment of Adults. Several shows, where noted, will also welcome children ages 6, 10 or 12 and up. Admission is always free. Download directions to all venues (PDF).
The Finale Showcase features performances by the Story Slam winner, Barrett, Brecke, Nixon and Locke. A reception precedes the showcase performance offering complimentary beverages and hors d'oeuvres.
Please call 503-846-3222 no less than 3 business days prior to an event to schedule assistive listening devices or sign language interpreters.










Festival Schedule
Unless otherwise noted, programs are 1 hour long.