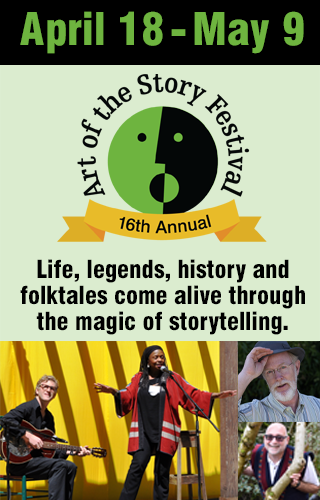 Washington County Cooperative Library Services is pleased to host the Art of the Story Festival featuring 14 unique storytelling performances throughout Washington County. See the schedule of events.
This year the festival features three professional storytellers: Diane Ferlatte accompanied by musician Erik Pearson (Oakland, CA), Steven Henegar (Salem, OR), and Paul Iarrobino (Portland, OR).
The festival offers local residents the opportunity to explore the storytelling craft with three events:
An Adult Story Slam featuring the following local tellers: Roland Jarka, Ph.D., Trish Anderson, Duncan Wyndham, Cynthia Butts and Hussein Al-Baiaty.
Two Student Story Slam Contests, coordinated with the Arts & Communication Magnet Academy (ACMA) and Beaverton High School.
Older and Wiser Showcase, proudly presented by a partnership between Washington County Disability, Aging and Veterans Services and Beaverton City Library. This showcase takes place at the Elsie Stuhr Center, with Carol Gunn, Phyllis Harmon, Mike Devenney and Andrea Stahr sharing their unique stories and the experience of aging in our community.
All festival performances are designed for the enjoyment of adults. Several shows, where noted, will also welcome children ages 6 or 12 and up. Admission is always free.
The Finale Showcase features performances by the Student and Adult Story Slam winners, Ferlatte accompanied by Pearson, Henegar, and Iarrobino. A reception precedes the Showcase performance offering complimentary beverages and desserts in partnership with Reedville Catering.
Please call 503-846-3222 no less than 3 business days prior to an event to schedule assistive listening devices or sign language interpreters.
2020 Festival Schedule
Unless otherwise noted, programs are 45 minutes long.