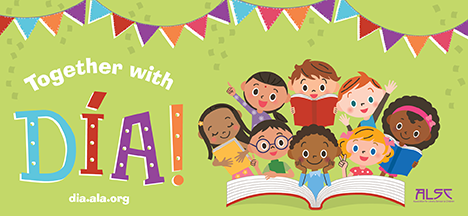 El día de los niños/El día de los libros (Children's Day/Book Day), commonly known as Día, is a celebration every day of children, families, and reading. The celebration emphasizes the importance of literacy for children of all linguistic and cultural backgrounds. - American Library Association
Events at WCCLS Libraries:
April 20, 2019
Cedar Mill Community Library
From 10 a.m. to 5 p.m.: International Read-In & craft
De 10 a.m. a 5 p.m.: Lectura internacional y Manualidades
April 26, 2019
West Slope Public Library
At 2 p.m.: TBA
A las 2 p.m.: TBA
April 27, 2019
Beaverton City Library
From 1:30 to 3 p.m.: Join us to celebrate children, families and reading with crafts, bilingual lottery (Spanish and English), stories and more! For children from 2 to 8 years old with their families.
De 1:30 a 3 p.m.: ¡Acompáñenos a celebrar los niños, las familias y la lectura con manualidades, lotería bilingüe (español e inglés), cuentos y más! Para niños de 2 a 8 años con sus familias.
Forest Grove City Library
From 2 to 4 p.m.: Face painting, crafts and music!
De 2 a 4 p.m.: ¡Pintura de caras, manualidades y música!
Tualatin Public Library
At 2 p.m.: Grupo Chayag (Andean Folk Music and Dance). Free book for each child attending the event!
A las 2 p.m.: Grupo Chayag (danza y música folklorica de los Andes). ¡Un libro gratis para cada niña/o que participe en este evento!
April 28, 2019
Hillsboro Public Library, Brookwood
All day: Storytimes and face painting
Todo el día: Hora de cuentos y pintura de caras
Tigard Public Library
From 2 to 3:30 p.m.: A celebration of kids, families, and reading with crafts and a special performance (TBA)
April 30, 2019
Bethany Library
From 1 to 4 p.m.: International Craft
De 1 a 4 p.m.: Manualidades internacionales