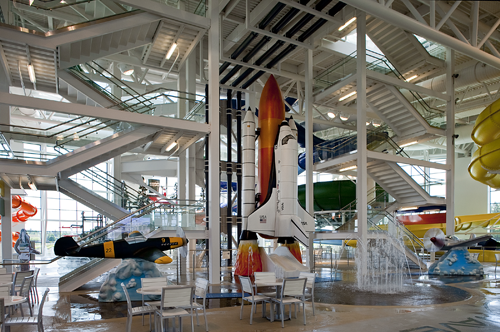 Summer Pass Only.
Check back May 8 for more details.
This summer, you will be able to reserve a one-day use of the Evergreen Wings & Waves membership which admits two individuals into the Waterpark. The same individual or family may only check out the Waterpark membership once during the summer of 2017. Please note that any other attractions on the Evergreen campus are not included in this Waterpark membership.
This McMinnville, Oregon destination is an indoor, educational waterpark that includes 10 waterslides (ranging from slides for the little ones to slides for daredevils), a wave pool and a hands-on museum with 20+ educational exhibits dedicated to teaching students about the power of water. Slide out of a real Boeing 747 aircraft sitting on the roof, and enjoy a day of educational fun!
Call 1-503-434-4185 for Waterpark hours, policies and other information or visit the website at wingsandwaveswaterpark.com.