How much do I pay for this service?
The Books-By-Mail service is paid for by Washington County Libraries and is free to Washington County residents.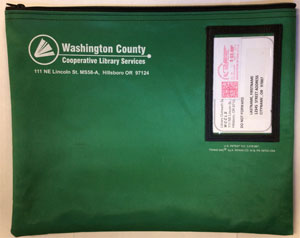 How do I receive materials?
Materials arrive in nylon zippered-bags. You may contact your mail carrier for special instructions if you cannot get to your mailbox.
How do I return materials?
Remove the mailing label from the plastic pocket on the nylon bag.
Flip the label over to read Library Outreach Services and insert into the plastic pocket.
Insert appropriate library materials and zip the bag.
Place the bag in the appropriate place for your mail carrier.
Can I save the library money if I have a friend or family member return the materials to a county library?
We appreciate the thought, but this is not necessary and will not save cost. The mail service charges for sending and returning the package at the time of mailing.
How do I request more materials?
Give us a call at 503-648-9785 to speak to a person (Monday-Friday, 9:00-5:00), or leave a voicemail message any time.