What are the books for this year?
Below are lists of this year's OBOB titles in different formats. Note that not all titles are available in every format.
See tips on using OverDrive for parents and educators.
3rd to 5th Grade Titles
6th to 8th Grade Titles
9th to 12th Grade Titles
What is OBOB?
The Oregon Battle of the Books (OBOB) is a statewide reading competition for children in grades 3-12. The program is sponsored by the Oregon Association of School Libraries.
Students read from the year's book list for their grade level and discuss the titles in teams. Each team prepares to answer trivia questions about the books. Teams compete against other teams of students in a tournament-style "battle" of knowledge about the books. Students who win battles at their school can advance to regional and state-level competitions.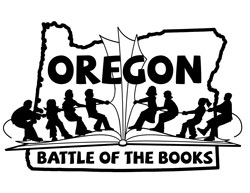 What does a battle look like?
OBOB Rules
Mr. Janssen at Grandhaven Elementary (McMinnville, OR) takes us through what to expect at a battle.
Glencoe Elementary (Portland, OR) Battle of the Books
Watch this short clip to see an example of an OBOB battle in action
2013 State Finals Full Video
What resources do you have to help me?
The Cedar Mill Library OBOB page has lists of sample questions and other resources.
2018-19 Printable Author Name Pronunciation Guides
2018-19 Printable Author/Title Match Sheets
OBOB events at WCCLS Libraries
Check back in the Fall for a list of programs or events at WCCLS libraries.
Funding
OBOB is paid for by local school libraries, local public libraries, and federal Library Services and Technology Act funds administered by the State Library of Oregon.