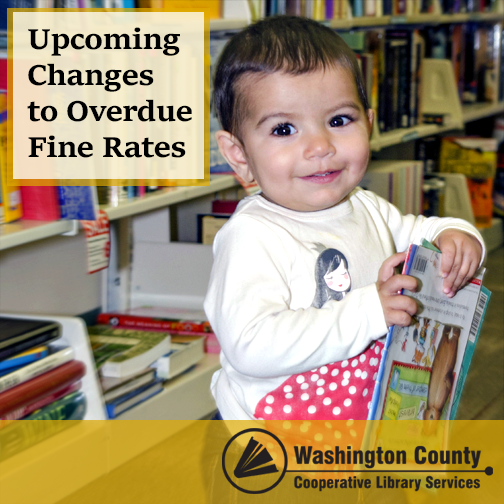 What is changing?
Children's materials in all formats will become overdue fine free effective June 1, 2017.
The date was chosen to coincide with the kick-off of the annual Summer Reading Program.
Fine rates for all Young Adult and Adult materials will become $0.25 per day effective July 1, 2017.
This excludes miscellaneous odd bits determined by the owning library, such as admission passes, equipment, puppets, board games, Kill-A-Watts, tote bags, and the Library of Things (at Hillsboro).
This means that rates for print and recorded materials will increase from $0.15 to $0.25 per day, and rates for video materials (i.e. DVDs, Blu-rays, and video games) will decrease from $1.00 to $0.25 per day.
Maximum fine accruals per item will remain at $5.00.
The fine rate is attached to the intended audience of the material, not the age of the patron, so all materials with a Children's (Juvenile) material type will become fine free regardless of who checks them out. This helps families that prefer to use one card for all their checkouts, or parents, teachers, home-schoolers and others who use early literacy and children's materials.
What is not changing?
Patrons will continue to be billed replacement fees for ALL materials that are never returned, or are lost, or damaged.
Why is WCCLS changing overdue fines?
We wanted to simplify our policy by charging one rate of $0.25 per day for all Young Adult and Adult materials, regardless of format.
Fine rates for print and recorded materials have not been reviewed or adjusted since 2003. The video fine rate was set back in the 1980's when videos were a scarce resource and very expensive. That is no longer the case, and $1.00 can no longer justified.
We want to encourage use of library materials by children and youth. WCCLS member libraries reaffirm our priority of developing literacy skills in Washington County's children and preparing children to enter school ready to read and ready to learn. We know overdue fines on children's materials are a barrier for many children and families. Research on the topic, as well as daily interactions with our patrons, confirm this. Whether because of actual fines, or concern over potential fines, many families will not allow their children to use the library for fear that they will not be able to pay the fines. By eliminating overdue fines on children's materials we eliminate one more barrier for children and families as they develop lifelong reading habits.
How do I know what has fines and what does not?
At some libraries it will be easy to tell. Most things in the Children's Room will be fine free, while things in the Adult section will have fines. But, typically, board books, picture and chapter books, children's DVDs, and children's multi-media kits will not have overdue fines.
Note that some "cross-over" titles might be shelved in multiple locations within a library. For example, copies of Harry Potter books, could be shelved in both the Children's section and the Young Adult section and Frozen DVDs might be shelved in both the Children's section and the Best Seller section. If you are unsure which items will or will not have overdue fines, ask staff for help.
What about Young Adult collections?
Only Children's materials will become fine free at this time, so library collections that are coded as Young Adult or Adult will continue to accrue fines. If you are unsure which materials will and will not have overdue fines, ask staff for help.
What about personal responsibility? How will kids learn if there aren't any fines?
We are eliminating overdue fines on Children's materials because we want to encourage ALL children to use the library, to explore library collections and become lifelong readers. We will continue to charge replacement fees for materials that are never returned, or are lost or are returned damaged, so we believe this new policy is a good balance between reducing barriers and instilling responsible behavior. We also know that young borrowers must depend on others to bring them to the library and to monitor due dates. Older patrons are more able to manage their materials and schedules and have transportation options to get to the library. As such, we will continue to charge overdue fines on Young Adult and Adult materials.
Don't the libraries need the fine money?
Overdue fines make up only a small fraction of a library's budget. This year, the total revenue from overdue fines is projected to equal only 1.8% of total countywide library operating expenses, and projected fines from Children's materials will account for less than 1%. Fine revenue has been declining for some time. WCCLS libraries work hard to help people avoid fines! We've increased the number of renewals allowed, and increased loan periods for some formats. We also offer:
The overwhelming majority of patrons return materials on time. By making changes we will eliminate barriers for children's use of the library and maintain modest incentives to encourage timely return of other materials. We assess fines as an incentive to return materials, not as a punishment or to generate revenue.
What about fines currently on my account?
If your library card is blocked because of overdue fines or lost materials, we'd like to work with you! If you return long overdue materials, we will waive the replacement charges (we really do just want the materials back). Libraries may also be willing to waive other fees, so come talk to us. Your local library staff will work with you to get your account cleaned up so you can use the library again.