Summer Reading at your local WCCLS library is tons of fun for kids.
Registration starts on June 1st. Please sign up just once, and at one library.
Awesome Events
WCCLS brings great Summer Reading performers to visit each of our member libraries each year. See who's visiting this summer!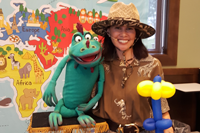 Vikki Gasko Green
has performed her one-woman ventriloquism show at libraries and schools all over the world. Her family-friendly show features puppets, stories, and fun!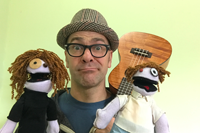 Rick Huddle
combines physical humor, theatrical storytelling, and music to put on variety shows that go beyond mere entertainment. Parents and children will laugh, sing, and play their way to a deeper understanding of each other.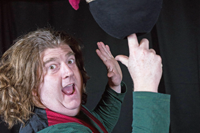 Michael O'Neill
is the Co-founder of Nomadic Theatre Co. and is acting, directing, and clowning extraordinaire. Join him for family fun and lots of laughs!
WCCLS member libraries also have scheduled events for Summer Reading. See those here.
Cool Prizes (For participants up to age 18)
Just for signing up for Summer Reading, you'll get...
One FREE general admission ticket to a Portland Thorns or Timbers T2 soccer game
Receive one FREE general admission ticket or reserved ticket to one of the following Portland Thorns or Timbers T2 games listed below.
One general admission or reserved adult ticket must be co-purchased at the time of redemption – the FREE reader ticket will be of like value.
Redeem early! Forms must be turned in at the Providence Park box office.
Tickets are subject to availability.
Limit of two FREE ticket redemptions per paid adult, not valid with any other offer.
Portland Thorns:

Saturday, August 19 - 7:00 p.m. | Portland Thorns FC vs. Houston Dash
Saturday, September 30 - 1:00 p.m. | Portland Thorns FC vs. Chicago Red Stars

Timbers T2:

Sunday, August 13 - 2:00 p.m. | Timbers T2 vs. Sacramento Republic FC
Saturday, September 9 at 7:00 p.m. | Timbers T2 vs. Real Monarchs SLC
Free fun at Bullwinkle's Family Fun Center
Receive one FREE round of miniature golf (18 holes) or Kidopolis Playland admission.
Coupon valid June 1 to September 30, 2017.
One FREE swim coupon to a Tualatin Hills Parks & Recreation pool
Kids ages 1-18 will receive a swim coupon good for one FREE admission at any of the eight THPRD pools.
Children under 7 years of age require an adult swimming with them. Children under 10 require a parent on site while they swim.
Swim coupon may be used during regularly scheduled drop-in times between June 1 – December 31, 2017.
See www.thprd.org/pools for Pool rules and additional restrictions/details.
If you meet your Summer Reading goal, you'll get...
A Portland Trail Blazers ticket voucher for a 2017-18 eligible game
One adult ticket ($13 Red Section Ticket) must be co-purchased at time of redemption – Reader ticket will be of like value. Options to upgrade are available on redemption form.
Limit of two FREE tickets per paid adult, not valid with any other offers.
See www.trailblazers.com for eligible 2017-2018 game schedule after September 15th.
Oaks Amusement Park discounted Deluxe Ride Bracelet
Get a Deluxe Ride Bracelet (valued at $19) for only $7.00!
Bracelet valid day of purchase only.
Valid during regular public hours August 2 - September 17. Open weekends only after Labor Day.
Offer not valid Tuesdays or September 4 (Labor Day). Closed Mondays.
Go Carts, Games, and Miniature Golf sold separately.
Not valid with other offers or packages or Chipper's Preschool Mornings. Height limits apply to rides.
Oregon State Fair FREE Kids Admission coupon and 2-for-1 Adult Admission coupon
Kids under 5 years old are always admitted FREE to the Oregon State Fair.
Kids ages 5 – 11 may use a FREE child's admission ticket to the 2017 Oregon State Fair.
Teens ages 12 to 18 may use a 2-for-1 adult admission ticket to the 2017 Oregon State Fair (this requires a $8 adult admission ticket co-purchase).