Stop by one of our libraries to sign up for Summer Reading 2019. There's something for everyone—fun reading, cool prizes, and great events!
Summer Reading begins June 1st.
The last day to sign up for summer reading 2019 is coming soon!
Aloha Community Library: July 31
Banks Public Library: July 14
Beaverton Libraries: July 22
Cedar Mill Libraries: In person July 15, online August 25
Cornelius Public Library: July 31
Forest Grove City Library: August 17
Garden Home Community Library: July 31
Hillsboro Libraries: August 14
North Plains Public Library: August 15
Sherwood Public Library: July 31
Tigard Public Library: July 31
Tualatin Public Library July 31
West Slope Community Library: July 31
Kids Events
WCCLS brings great Summer Reading performers to visit each of our member libraries every year. See who's visiting this summer!
Angel Ocasio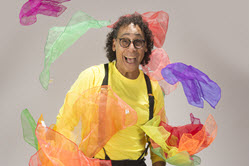 Angel Ocasio's Comedy Show & More
Kids of all ages will be giggling and amazed with Angel's comedy, music, magic and juggling feats! It's sure to be a wacky show filled with silly antics, ukulele playing and fun bilingual singalongs.
Q-ensemble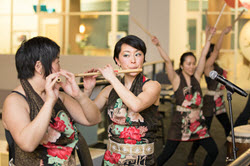 Japanese Drum and Dance: Takohachi's Q-ensemble
Join Portland's favorite Japanese Taiko group "Q-ensemble" for an event filled with cultural, musical, and educational essences for children of all ages and their families. This show features powerful Taiko drums, beautiful bamboo flute, unique Shamisen (three string), dance, story and more!
Nathalia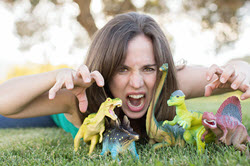 Songs in English and Spanish: Nathalia
Children's songwriter Nathalia uses a creative bilingual approach to engage families in an interactive musical performance. From themes like space exploration to cruising down the Amazon River, her infectious songs will have families singing, dancing, and even learning a little Spanish, in this fun multicultural experience
Teen Events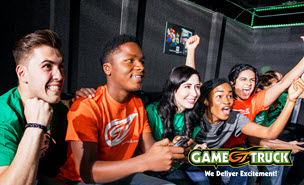 Game Truck
Video games or Laser Tag: Game Truck!
A climate controlled game theater is pulling up to your local WCCLS library this summer! Live action more your speed? Join Game Truck for a round of laser tag. Enjoy life-sized Jenga and other games while you wait your turn at each event! Check with your local library as to which program they are offering.
WCCLS member libraries have additional scheduled events for Summer Reading.
Cool Prizes (For participants up to age 18)
Just for signing up for Summer Reading, you'll get...
One FREE general admission ticket to a Portland Thorns or Timbers T2 soccer game
Receive one FREE general admission ticket or reserved ticket to one of the following Portland Thorns or Timbers T2 games listed below.
One general admission or reserved adult ticket must be co-purchased at the time of redemption – the FREE reader ticket will be of like value.
Redeem early using the new online registration link - see summerreading2019.thornsfc.com.
Read these instructions to order tickets online.
Tickets are subject to availability.
Limit of two FREE ticket redemptions per paid adult, not valid with any other offer.
Portland Thorns:
Sunday July 14, Sunday August 11, or Saturday August 17.
Timbers T2:
Sunday July 28, Sunday September 8, or Sunday September 29
Receive one FREE round of miniature golf (18 holes) or Kidopolis Playland admission.
Coupon valid June 1 to September 30, 2019.
Kids ages 1-18 will receive a swim or drop-in activity coupon good for one FREE admission at a THPRD pool or activity center.
Children under 7 years of age require an adult swimming with them. Children under 10 require a parent on site while they swim.
Coupon may be used during regularly scheduled drop-in times between June 1 – December 31, 2019.
See www.thprd.org/pools for Pool rules and additional restrictions/details.
Guests 18 and younger get 40% off purchase of one ride bracelet. Includes one roller skating session with conventional skates; skate session hours vary from amusement park hours.
Bracelet valid day of purchase only. One offer per coupon.
Valid during regular public hours June 15 - September 15, 2019 (not valid Tuesdays, July 4, or September 2).
Coupon MUST be presented at the ticket booth in order to receive the discounted ride bracelet. NO EXCEPTIONS.
Park admission is free, except for July 4 and Oktoberfest. Closed Mondays. Open weekends only after Labor Day.
Not valid for Chipper's Preschool Mornings or with other offers or packages. Height limits apply to rides.
When you meet your Summer Reading goal, you'll get...
One FREE Portland Trail Blazers ticket for a 2019-20 eligible October or November game.
One adult ticket (300 level Tan) must be purchased at time of redemption, with options to upgrade tickets available.
Limit of two FREE reader ticket redemptions per paid adult, not valid with any other offers.
Redeem tickets online via www.trailblazers.com/readtoredeem. Available game options and tickets will be available for purchase by September 16th.
Oregon State Fair FREE Kids Admission coupon and 2-for-1 Adult & Teen Admission coupon
Kids under 5 years old are always admitted FREE to the Oregon State Fair.
Kids ages 5 – 12 may use a FREE child's admission ticket to the 2019 Oregon State Fair.
Teens ages 13 to 18 may use a 2-for-1 adult admission ticket to the 2019 Oregon State Fair (this requires a $8 adult admission ticket co-purchase at time of redemption).