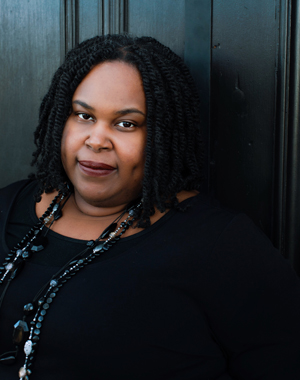 Teen LitFest is an annual event sponsored by WCCLS. Teen library staff recommend a featured speaker, who is then hosted by three WCCLS libraries. This year's featured speaker is Renée Watson.
Renée Watson is a New York Times bestselling author, educator, and activist. Her young adult novel, Piecing Me Together (Bloomsbury, 2017) received a Coretta Scott King Award and Newbery Honor. Her children's picture books and novels for teens have received several awards and international recognition. She has given readings and lectures at many renowned places including the United Nations, the Library of Congress, and the U.S. Embassy in Japan. The New York Times calls Renée's writing, "charming and evocative."
---
Teen LitFest (Festival de Literatura Juvenil) es un evento anual patrocinado por WCCLS. El personal para adolescentes de las bibliotecas recomienda un orador destacado, al que más tarde recibirán tres bibliotecas de WCCLS. La oradora principal de este año es Renée Watson.
Renée Watson es una escritora, educadora y activista, con éxito de ventas del New York Times. Su novela para adultos jóvenes, Piecing Me Together (Bloomsbury, 2017) recibió el premio Coretta Scott King y el Newbery Honor. Sus libros ilustrados para niños y novelas para adolescentes han recibido varios premios y reconocimiento internacional. Ha dado lecturas y conferencias en muchos lugares de renombre, incluyendo las Naciones Unidas, la Biblioteca del Congreso y la Embajada de los Estados Unidos en Japón. El New York Times describe el estilo de Renée como "encantador y evocativo".
Get a head start on the books
Comienza los libros con ventaja
Go to an Author Talk
Ve a una charla con la escritora
Tuesday October 22 at 6:30 p.m.
Martes 22 de octubre a las 6:30 p.m.
Thursday, October 24 at 6:30 p.m.
Jueves 24 de octubre a las 6:30 p.m.
Tuesday, October 29 at 6:30 p.m.
Martes 29 de octubre a las 6:30 p.m.