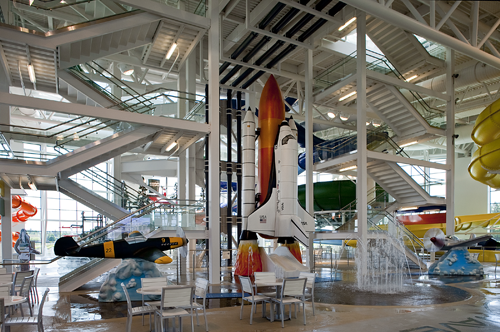 This McMinnville, Oregon destination is an indoor, all-season waterpark that includes ten waterslides, ranging from slides for the little ones to slides for daredevils, and a fun wave pool. Slide out of a real Boeing 747 aircraft sitting on the roof, and enjoy an awesome day of fun!
The Pass admits two individuals into the Waterpark. It is limited to ONE use per summer season from June 1 through September 3, 2018. The Waterpark reserves the right to enforce height restrictions and policies posted in the park or on their website. No other attractions on the Evergreen Campus are included.
Admission Passes are available this summer in three "waves:"
Available for reservations starting May 1: June 1-30
Available for reservations starting June 1: July 1-31
Available for reservations starting July 2: August 1-September 3
Call 1-503-434-4185 for Waterpark hours, policies and other information or visit the website at wingsandwaveswaterpark.com.