No library card necessary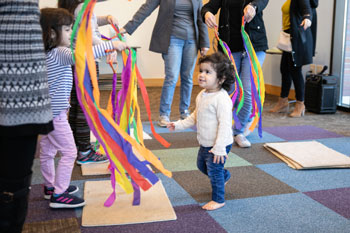 All storytimes include singing, moving, and sharing books. Storytimes often include puppets, arts and crafts, and other playful learning activities. You and your children can participate in storytimes at your own comfort and ability level. All are welcome, you do not have to have a library card, and it's free!
If you are bringing a group of more than 4 children to storytime, please call the library in advance so they can prepare enough supplies for the activities.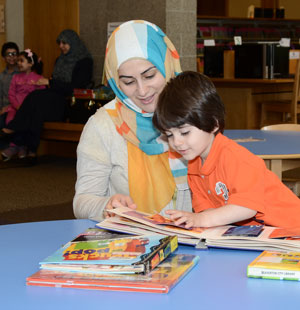 Play with early learning toys you can borrow from the library. You must pick up and return the toys at the library location specified in the online catalog entry for the toys you want to borrow.
Look, listen, and follow along with picture book and CD sets you can pick up at and return to the library of your choice.
Borrow picture books, board games for preschoolers, children's music CDs, and more materials you can pick up at and return to the library of your choice.
Here are some lists to get you started.
It's free! Children's books do not have late fines. If you damage or lose an item, you will be charged a replacement fee. There is a small fine for returning teen and adult books late.
Get library resources for you (parents, child care providers, and preschool teachers)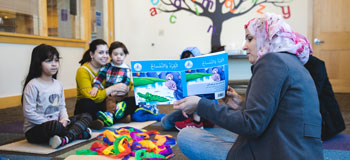 Access resources provided by some of the library's early learning community partners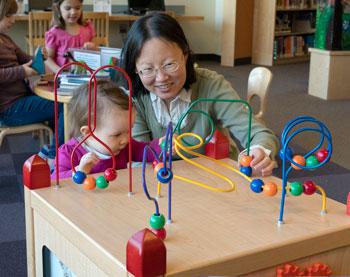 You can help the children in your life get ready for school!
Children learn vocabulary words, letter names, letter sounds, communication skills, background knowledge, and how books and stories work by doing the following activities with you. Learn more about early learning and the reading process by visiting Reading Rockets and ¡Colorín colorado!
Talk:
Tell family stories
Describe what you're doing and hearing
Name colors, shapes, and objects you see
Sing:
Sing along with the radio
Clap along with songs you know
Use words that rhyme
Play:
Build with blocks, boxes, or LEGO®
Pretend to do different jobs
Act out favorite storytimes
Share books:
Talk about the pictures
Ask questions about the story
Read books again and again
Draw and color:
Trace shapes, letters, and numbers
Cut, glue, and tape paper
Color with crayons or markers
Practice:
Being ready for school is about more than what your child knows. Here are some things to help you child get ready to be part of a class:
Make routines
Take turns
Talk about feelings
Be kind
Read and play together everyday