Download the library card application in any of these languages and bring it to the library to get a card:
How do I apply for a library card?
Each WCCLS member library has individual policies regarding applying for a library card. Contact your local WCCLS library for details. In general, you will need a piece of identification showing you reside in Washington County and a photo ID.
We have application forms you can print, complete, and bring to your local WCCLS library with your identification. Click on the links in the yellow box to access the application forms. You can also get a printed form at your local library.
How do I renew my library card registration?
Library card registrations generally expire every four years. If you are signed up for email notification, you will receive an email notice 35 days before your card expires. To renew your library card, call your local library. They may be able to renew your registration over the phone, or they will let you know what you need to bring in to the library to renew.
Who is eligible for a WCCLS library card?
Washington County residents are eligible for a WCCLS library card.
Non-residents are eligible for certain types of cards as well.
Read more about the types of library cards available.
Can I access other Oregon libraries with my WCCLS library card?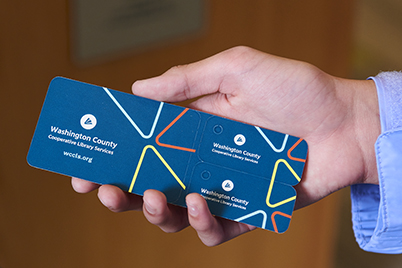 If you are a resident of Washington County, your WCCLS library card gives you free access to libraries across the Portland metro area, via the MIX agreement.
Your WCCLS library card also enables you to get a free library card at any Oregon libraries participating in the Oregon Library Passport Program. Find a list of participating libraries here. To get a card at a participating Oregon Passport library, simply show your WCCLS library card, and whatever identification the library requires to get a card at their library. This is usually photo ID with a proof of address.
Checkout limits, loan periods, etc. vary, and are determined by each Passport Library.