To get started with e-books
: Select your device to see which kinds of downloadable formats and services you can use.
WCCLS offers two downloadable book services.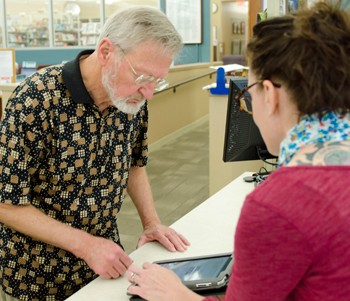 The services have a few differences, but both offer e-books and e-audiobooks.



E-book check-out limit: 6 at a time for each service. These titles don't count against the number of physical library materials you have checked out.

E-book holds: 6 at a time for each service. You have 3 days to check out a held title that is ready for you.

Loan period: 21 days. Library2Go's default check-out is 14 days, but you can change it to 21.

How to return: Downloadable books automatically return at the end of your loan period, but you can usually return them early if you wish.

Renewals: Neither service currently offers title renewals, but if no one has the title on hold, you can simply check it out again.

Help:
Cloud Library
Library2Go Overdrive

Still having trouble? Contact us.