Address: 17455 SW Farmington Rd, Suite 25B, Aloha, OR 97078 (map)
Contact: 503-259-0185 or info@alohalibrary.org
Website: alohalibrary.org
Open hours:
Monday 10am - 8 pm
Wednesday 10 am - 8 pm
Thursday 10am - 8 pm
Saturday 10 am - 5 pm
The Aloha Community Library Association (ACLA) currently operates the Aloha Community Library. At this time, the Aloha Community Library is not a member of WCCLS, and there is no connection between WCCLS and Aloha Community Library in terms of library services, library materials or library cards.
The passage of Measure 34-235, the countywide library replacement levy, will allow the Aloha Community Library to become a full member of the Washington County Cooperative Library Services in 2016 and receive operating funds from WCCLS. The target date for this is October 2016.
Aloha Community Library Board and staff are working with WCCLS to map out a plan for connecting the Aloha Library to the WCCLS system – this involves everything from Summer Reading Program activities, to library catalog conversion and software installation, to staff training on WCCLS policies and procedures, to installation of a library security system to mapping out Courier delivery schedules for pick-up and drop-off of materials. In addition to everything that needs to be completed on the WCCLS side, Aloha Library is planning to remodel and relocate to the larger "Annex" space that they have been using for programs and book sales. This new 9600 Sq. Ft. space will be an excellent location to serve the Aloha community.
We know library patrons are eager to make Aloha Community Library their new WCCLS home library! Here is a preliminary timeline of activities that will take place in order to add Aloha Library to WCCLS. Stay tuned for updates in the coming months.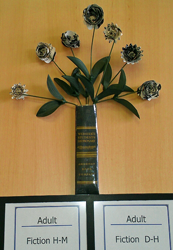 February – present: Aloha Community Library is conducting a capital campaign to support relocation and remodeling costs.
August – October 2016: Remodeling of the Annex space, relocation of the library collection and staff functions after construction is completed.
June – August 2016: Aloha Library participates in the WCCLS Summer Reading Program for children, teens and adults. (Programs will be held at the library or at an alternate location if construction is happening!) Additional staff will be added to expand library hours and support the increased level of activity anticipated with WCCLS membership.
October 2016: Catalog and patron records added to the WCCLS catalog; Aloha staff will receive training on WCCLS Policies and Procedures; Aloha Library will begin accepting returns of materials for other WCCLS member libraries.
Late October 2016: A "Grand Opening" celebration will be held!
November 2016: Aloha Library will begin serving as a pickup location for materials shipped in-transit from other WCCLS member libraries to fill local patron holds.