The Aloha Community Library Association (ACLA) operates the Aloha Community Library. At this time, the Aloha Community Library is not a member of WCCLS, and there is no connection between WCCLS and Aloha Community Library in terms of library services, library materials or library cards. Here are answers to some frequently asked questions about the Aloha Community Library.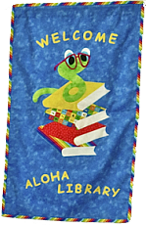 Where is the Aloha Community Library and when is it open?
Address: 17455 SW Farmington Rd Suite 25B Aloha, OR 97078 (map)
Contact: 503-259-0185 or info@alohalibrary.org
The library is open:
Monday 10am - 8 pm
Wednesday 10 am - 8 pm
Thursday 10am - 8 pmSaturday 10 am - 5 pm
Hours will increase as volunteers are trained and able to provide coverage more days per week.
Can I pick-up and return WCCLS materials to Aloha Community Library?
No. At this time there is no connection between the two libraries, including no WCCLS courier deliveries between the two. To avoid overdue fines, please return your WCCLS materials to any of the 17 WCCLS member libraries. Likewise, Aloha materials must be picked up and returned to that library only.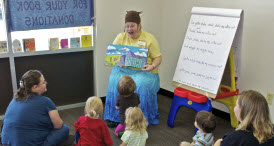 Will my WCCLS library card work at Aloha Community Library?
No - Aloha will issue its own library cards, which will not work at WCCLS. Similarly, Aloha Library cards will not work for reserving and checking out WCCLS materials and ebooks, or reserving internet stations at WCCLS libraries. If you have a WCCLS card and get an Aloha card as well, please present the card when registering at Aloha so that they can record your WCCLS barcode number. This will be a benefit when Aloha does join WCCLS, as we can more easily merge your patron records. It's OK to have two cards – collect the set! Aloha Community Library cards numbers will be 8 digits long and start with 2. WCCLS cards are 14 digits long and start with 23614.
Why do the items I check out from the Aloha Community Library have WCCLS barcode stickers on them?
Looking ahead to when the Aloha library becomes a WCCLS member library, WCCLS provided barcode stickers for Aloha's materials. This will save some of the time required to re-process library materials when Aloha joins WCCLS in the future. Library materials owned by the Aloha Library will have an Aloha property stamp on them, and will not have an RFID tag. Materials owned by the Aloha Community Library must be returned there, and cannot be returned to WCCLS member libraries.
How is Aloha Community Library funded?
The library is funded through community memberships, donations, fund-raising, corporate sponsorships, and grants. The library receives no city or county tax support at this time. The library intends to apply for annual development grants from WCCLS for the next four years to support the purchase of library materials.

How can I help Aloha Community Library?
Become a member of the ACLA, volunteer your time or expertise, donate funds and/or library materials, or become a corporate sponsor. The ACLA website lists various ways community members can become involved and assure that the library succeeds.
I want to know more about the Aloha Community Library Association.


The Aloha Community Library Association (ACLA) is a 501(C)(3) non-profit association formed in 2011 to establish and implement library service in Aloha. It is the intent of ACLA, and of WCCLS, that the library eventually is admitted as a full-member of WCCLS. WCCLS is actively engaged in mentoring ACLA to assure its success. Our goal is that ACLA becomes ready to be a full WCCLS member library in 2016. To read more about ACLA, visit their website. At this time, the Aloha Community Library is not a full member of WCCLS, its books and materials are not available through the WCCLS catalog, and Aloha will maintain its own circulation and catalog system.