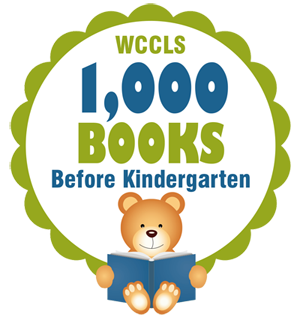 Why read 1,000 books before Kindergarten?
Reading high-quality books at home is one of the best ways to get your child ready for school. Reading 1,000 books sounds like a lot; but if you read just 3 picture books with your child every day, you will read over 1,000 books in a year!
Get started
Ready to read books together? Here's how you can get started reading 1,000 books before kindergarten:
Stop by your local WCCLS library and pick up a reading log.
(You can also download and print the log.)
Keep track of the books you read at home.
Every time you read 100 books (and fill up the log), do something fun together to celebrate. You can even visit your local WCCLS library and ask for a 1,000 Books before Kindergarten sticker! Download and print a 1,000 Books before Kindergarten certificate.
It's okay if you read the same book 100 times! Rereading old favorites helps brains grow. Reading a book your child already knows strengthens connections in the brain, ensuring those connections stay put as your child continues to learn new things.
Looking for some good books to start with? Download the 1,000 Books before Kindergarten booklist.
Register for Kindergarten
If your child turns 5 before September 1, they can register for Kindergarten!
Get your student ready by registering for Kindergarten before the end of this school year. Don't wait! The sooner you register, the better for your child. Call 211 to find the school nearest you.
Get connected
We are proud to partner with organizations around the county that help families with young children get ready for school. Follow the links below on more information about the services our Early Learning Washington County partners provide.