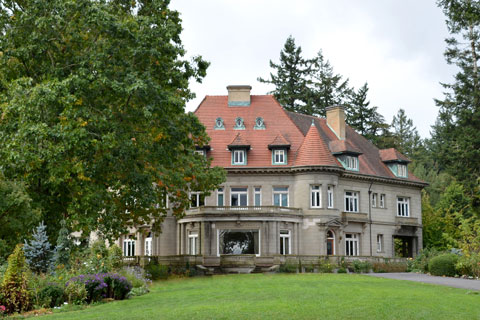 A visit to this 16,000 square foot chateaueseque mansion, nestled in Portland's west hills, will bring you back to the romantic charm of a vanished era. Marvel at the beauty and history of one of our nation's great mansions. Learn about the extraordinary lives of Henry and Georgiana Pittock and their role in growth of Portland at the turn of the century. Admire remarkable antique furnishings and fine arts set in a 1914 National Register property. Pack a picnic basket and enjoy the sweeping view of mountains, rivers and the City of Portland. Don't forget your camera.
The membership allows two adults and two children (ages 6-18) admission into the mansion. See Borrowing Rules for more information about how the pass may be used.
Closed on major holidays. Call 503-823-3624 for additional hours and closures or check out the website at pittockmansion.org.
Contact a participating library to reserve a pass.